AAAAAH, IT'S 101 CLEAN JOKES IN 30 MINUTES - FREE SHOW
Comedy
Venue:Dropkick Murphy's, 7 Merchant St (Off Candlemaker Row) Edinburgh EH1 2QD ‎
Phone: 0131 225 2002
Links: Click Here for venue details, Click here for map
Ticket Prices: Free
Room: Main Room
AUG 4-28 at 13:15 (30 min)
Award-winning gag merchant Masai Graham delivers over one hundred jokes in just half an hour. Expect puns, one liners and wordplay in this 3.3 laughs per minute bonanza. 'Annoyingly good' (Gary Delaney, Mock the Week). 'Flashes of proper genius' (Chortle.co.uk). Birmingham New Act of the Year 2012.
---

This Show on Twitter
---
News and Reviews for this Show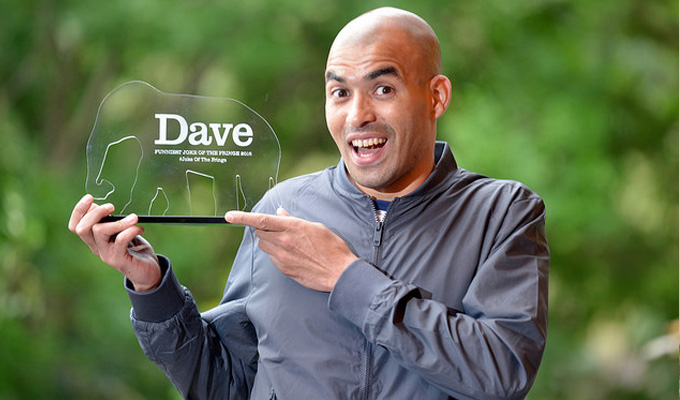 August 25, 2016
Chortle
Congratulations to Masai Graham for winning Dave TV's Best Joke of the Fringe.
Comedian Masai Graham has won this year's Joke of the Fringe award with: 'My dad has suggested that I register for a donor card. He's a man after my own heart.'The comic, a 35-year-old care worker from West Bromwich , scooped the title run by TV channel Dave that has previously won by the likes of Tim Vine, Zoe Lyons, Stewart Francis and Nick Helm.Graham was runner-up in 2014 and fourth in 2015 and says he has better jokes than the one that earned him the title. 'I do a lot of darker material and dark one-liners, but only the clean material gets on the list,' he said. ' It's an incredible honour to land Joke of the Fringe. Not bad for someone from West Brom...''The funny thing is that it was Dave's Joke of The Fringe that inspired me to become a comic. I remember picking up the paper years ago, reading the top 10 gags and wondering if I could write a decent one myself.'Steve North, general manager of Dave, said: 'The Fringe is renowned for being the best place to spot new and emerging comedy talent and although there are some returning contenders in our top 10 this year, there is a high volume of new talent which is very exciting to see." Click Here
Comment on this Show