WELCOME TO THE 2018 FREE EDINBURGH FRINGE FESTIVAL....
Welcome to our programme for 2018! We have new shows, new Venues and a new Logo! This year our shows will run July 29th to August 26th 2018 at our venues across Edinburgh. The first few days are our Kids festival dates, with the full programme starting August 2nd.
This year we have a record-breaking 9237 performances, of 402 shows at our 25 venues, more venues than ever, with more award nominated shows appearing, top name comedians, the best in theatre, cabaret and children's shows from all over the world - including the Fringe's smallest venue, and the only Fringe show entirely in Japanese.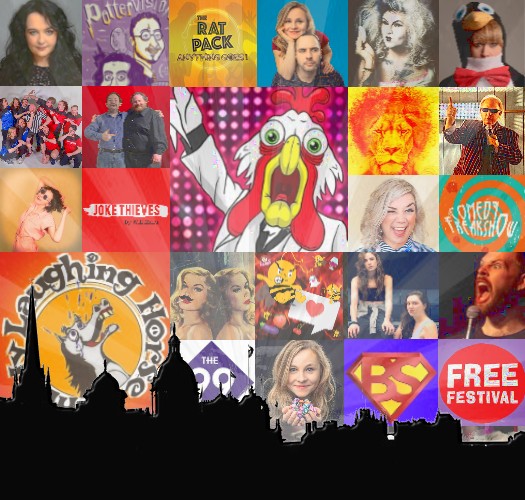 This year we have some exciting new venues for you to choose from, and several of our venues are benefiting from refurbishments to make your Fringe viewing all that more pleasurable! There is the usual massive comedy selection, along with four music stages, some fantastic cabaret, theatre, children's shows, spoken word a walking tour and some busking, plus our free nightclubs to dance the night away after the shows.
As always there is so much to choose from - have a look through the programme now and make a note of what you want to see.
It is also our 15th Anniversary year this year, so we're really happy to be presenting what we think is our best programme ever. Can you believe that? 15 years of the very best free shows Edinburgh has to offer!
Last year we had a hugely critically acclaimed Fringe, with award winners and nominations, a massive bucket-load of five-star reviewed shows and even more four star reviewed shows - which proves that our free shows are a sign of top quality Fringe shows, while we allow performers and audiences experience the freedom of the Fringe, with a chance to experiment and enjoy, without the huge costs! Just what the Fringe should be!
Do check out what we had in our programme, using the calendar or search tools on the left of this page to see what was is on in 2018. And see you all around the venues through August!
Running The Free Festival costs a lot of money... some of this money is recouped through sponsorship, advertising and our comedy courses... If you would like to contribute and help keep the venues free for acts and audiences, please click button above
Become a Free Festival Venue... If you run a Fringe venue in Edinburgh and would like to either become part of the Free Festival or list your free shows with us, or if you are a new venue looking to have free shows at your venue for the Fringe, click here for some more information...